DMR STS Tension Seeker
The On-One Doofer is essentially a stripped down rear derailleur. It tensions the chain by pushing down on the chain and has a spring to allow for some play. The design makes for the set up to have "chain wrap", or more pulleys the chain has to go through. For singlespeed, the most ideal situation is to have the chain line be direct, without much wrap. The On-One Doofer is basic and it works. But, due to the wrap, it isn't the most ideal set-up if you have other options to choose from.
The On-One Other Doofer and the Surly Singulator can be set up in "push up" or "push down" mode (as the On-One Doofer works) to tension the chain. The Other-Doofer works okay, but due to the design, in the more desired mode of "push up", you may have an issue with the guide wheel coming in contact with the chain stay. Some correct this with a half-link (which you can purchase for this reason), or some may just choose to set it up in the push down mode. Also, the wheel guide was not very precise, which also made for a noisy, gritty set-up.
The Surly Singulator was also noisy and gritty in both "push down" and in "push up" mode. The Singulator was tensioned with a spring, so chain slap over very rough areas did occur. Until I purchased the
DMR STS Tension Seeker
, I truly believed this was how they all felt...
LAME.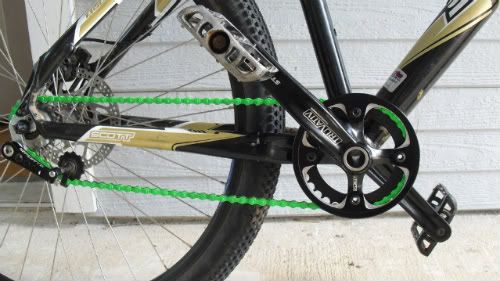 Tensioner in "push down" mode
Tensioner in "push up" mode
Ideally, one would want a frame with horizontal (or "track") dropouts for a single speed set-up.
Sliding dropout frames
work very well, too. But when you're converting a vertical dropout frame, you must tension the chain one way or another*. And, for efficiency, the less chain wrap, the better.
After searching the internet for wisdom, I came across great reviews about the
DMR STS Tension Seeker
. What really interested me was seeing how many were able to get it to "push up" successfully. Sometimes, with certain gearing combos, the push-up will not work and the wheel guide will hit the chain stay (as mentioned before). But, I decided to order one and give it a try anyway. It couldn't be any worse than what I used before, right? And ultimately, I could always resort to "push-down" mode, if necessary.
Installation was very easy, and with my 34X20 gearing, it works in "push-up" mode perfectly. During my ride, I didn't feel like there was a tensioner there at all; it was so smooth, it felt as if I had horizontal dropouts with a direct chain - no wrap. No noise, buttery smooth, and no dropped chain. The guide wheel has free lateral movement, so how ever your chain line sits on your frame, the guide wheel will adapt.
After being a little frustrated with other tensioners and feeling like mediocre was the best I was going to do, I am glad so many have posted positive reviews about the DMR. It is a tensioner that proves to be solid, works well, and makes you forget you are riding a conversion.
I highly recommend not messing with other tensioners - do it right the first time with a DMR.
*Sheldon Brown has a massive article about single speeds which is pretty extensive and I'd be foolish to try to re-create it myself. If you haven't read from the master, you may click HERE for more information.